2020 NET PROMOTER Score SM (NPS®) puts rising in the company of elite global brands
---
Mar 8, 2021 – Rising Medical Solutions (Rising) today announced that the company achieved world class customer satisfaction in 2020 based on its Net Promoter ScoreSM (NPS®). Based on global NPS standards, an NPS of 50 or higher is considered exceptional and a score over 70 is considered a 'world class' indicator of customer loyalty. Rising's NPS score of 77 puts it among the elite global brands known for high customer satisfaction. These brands include – The Ritz Carlton, Southwest Airlines, USAA, and Costco.
(click to view larger version of graphic)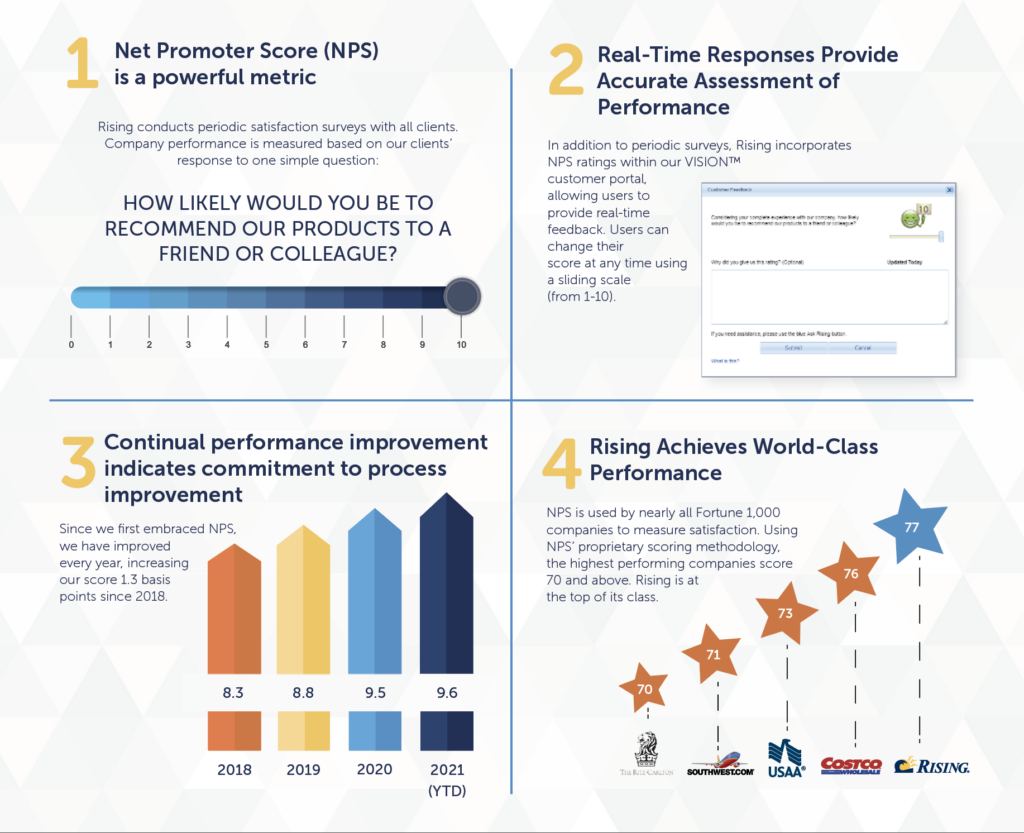 "One of our core values is to 'create ecstatic customers' so providing an amazing customer experience is our top priority," says Jason Beans, Rising CEO. "As a metric-driven organization, we need objective ways to measure our performance and the NPS provides an unbiased way for us to compare ourselves to top performing companies."
Rising sends out periodic NPS surveys to clients and also makes the survey available on the company's proprietary VISION™ customer portal. This allows customers to provide real-time feedback rather than waiting to be invited to take a survey. This readily accessible survey approach is a better way to gauge true customer satisfaction as participants disclose how they are feeling in the moment.
Rising tracks and uses NPS as a quantitative method for gauging overall customer experience. Results are then used to continually improve Rising's service delivery, technology, and customer support practices.
Over the past four years, Rising has made performance improvements and increased its score every year. Rising also tracks its customers' raw scores on a 10-point scale. In 2018, the company's average score was 8.3. That score has risen 1.3 basis points and is 9.6 today.
"I am incredibly proud of our Rising team for this achievement," said Beans. "We are constantly reviewing results, listening to customer feedback, taking actions to drive improvements, and implementing new processes to eliminate any recurring issues. Embracing the NPS methodology has made us a better company and we thank our customers for recognizing our commitment to service excellence."
Net Promoter®, NPS®, NPS Prism®, and the NPS-related emoticons are registered trademarks of Bain & Company, Inc., Satmetrix Systems, Inc., and Fred Reichheld. Net Promoter Score℠ and Net Promoter System℠ are service marks of Bain & Company, Inc., Satmetrix Systems, Inc., and Fred Reichheld.
About Rising Medical Solutions
Rising Medical Solutions is a national medical-financial solutions firm that provides medical cost containment and medical care management services to the workers' compensation, auto, liability, and group health markets. Rising also directs and publishes the annual Workers' Compensation Benchmarking Study, a national research program examining the complex forces impacting claims management in workers' compensation today.